Expect the savage
The sensual. The Shocking.
The Sad. The Powerful. The Shameful.
Expect all that the motion picture screen
has never dared to show before.
Expect the truth.
Now you are ready for "Mandingo"
Directed by Richard Fleischer
Produced by Dino De Laurentiis
Writing credits
Kyle Onstott(novel)
Jack Kirkland(play)
Norman Wexler(script)
Cinematography by Richard H. Kline
Original music by Maurice Jarre
Casting by Lynn Stalmaster
Costume Design by Ann Roth
Cast
Perry King.... Hammond Maxwell
James Mason.... Warren Maxwell
Susan George.... Blanche
Ken Norton.... Mede
Brenda Sykes.... Ellen
Lillian Hayman.... Lucrezia Borgia
Earl Maynard.... Babouin
Roy Poole.... Doc Redfield
Richard Ward .... Agamemnon
Paul Benedict.... Brownlee
Ji-Tu Cumbuka.... Cicero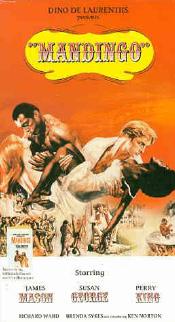 Mandingo(1975) is set in the ruin down plantation called Falconhurst in the deep south of America in 1800's and it owners Warren Maxwell and his son Hammond who breed slaves for profit and pleasure. Warren, a widower spends most of his time drunk complaining about his rheumatiz and wanting 16 year old son Ham to get married a white girl so Falconhurst can have white male heir(but he can still sleep with his nigger wenches). Ham finally caves in and marries his cousin Blanche (who has been sleeping with her brother for many years). Meanwhile Ham buy a Mandingo slave called Mede so he can train to fight and breed, Mede win all his fights and they become the best of friends despite the race issue. But Ham can't stop his wenching so Blanche get really pissed sleeps with his fighting stud Mede, Ham find out, poisons Blanche, Mede boils alive and old masa Warren get shot. The End.
This is a excellent adaptation by Norman Wexler(Saturday Night Fever, Serpico and Joe), based on best-selling novel by Kyle Onstott (more than 20 million copies sold) Mandingo was the big studio Paramount stab at 70's Blaxpliotation, which was of course a box office hit it was quickly followed by a squeal "Drum (1976)".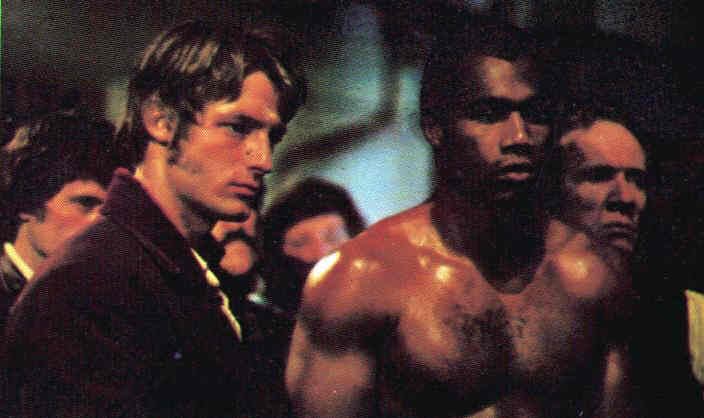 It has been called many things -Trashy potboiler, racist, Offensive and sick and disturbing,"camp classic" politically incorrect. Mandingo was trashed by many critics when first released in the USA, but was acclaimed when released in Great Britain as a "Gothic Classic". Mandingo is very really screen on TV, and only avaiable on VHS tape but very unlike to get DVD release which is a pity, comparing Mandingo to "Roots"(the Oprah Winfrey Version of Slavery)and the Unbelevible stupid "Gone With The Wind"(made by and for the guilty white men) Mandingo is more trueful and faithful to this sad era in American history.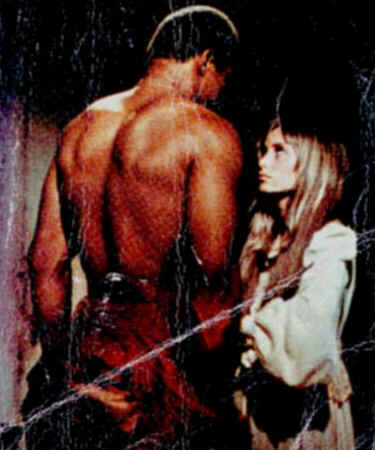 Behind The Scenes
Director Richard Fleischer had refused Dino de Laurentiis ten times when he had asked him to film the novel Mandingo
The role of Mede once intended for Muhammad Ali (but find out he couldn't act after seeing him in Freedom Road & AKA Cassius Clay)
Norman Wexler won the British Film Institute Award for Best Script for Mandingo
Made for $5,000,000 made $25,000,000 upon release
Picture Gallery to follow soon
Drum 1962, Falconhurst Fancy 1966, Falconhurst Fugitive 1988,Flight to Falconhurst 1971, Golden Stud 1975, Heir to Falconhurst 1968, Mandingo 1957, Mandingo Mansa 1986, Mandingo Master 1986, Mandingo Sister, Master of Falconhurst 1965, Mistress of Falconhurst 1973, Miz Lucretia of Falconhurst, Mustee 1968, Scandal of Falconhurst 1980, Six-Fingered Stud 1975, Sword of the Golden Stud 1978, Taproots of Falconhurst 1978, Kyle Onstott, Lance Horner, Ashley Carter, James Mason, Susan George, Trashy, bigoted, plantation, interracial, British Film Institute Award, Slavery, Gone with the Wind, Mandingo (1975), Drum(1976), cruelty, NORMAN WEXLER, Tambora, Madame Alix, Pam Grier, Warren Oates, Hammond Maxwell, revolt, Burt Kennedy, Steve Carver, Ralph B. Serpe, Dino De Laurentiis, Lucien Ballard, Isela Vega, Ken Norton, Yaphet Kotto, John Colicos, Fiona Lewis, Paula Kelly, Royal Dano, Rainbeaux Smith, Brenda Sykes, Charlie Smalls, Richard Fleischer, Maurice Jarre, Warren Maxwell, Ken Norton, Lucrezia Borgia, Mede, Doc Redfield, Richard Ward, Agamemnon, Paul Benedict, Brownlee , Ji-Tu Cumbuka, Cicero , US Bestsellers 1895-1975, Broadway, Perry King, slave-trading, Roots, Southern, brutality, Muhammad Ali, fighter, nudity, graphic violence, whippings, boiled alive, pitchforked, hung, stud-slave, Louisiana, controversial, explosive, African, American, genre, New Orleans, Slave Breeder, rebellion, nude, explotitation, sleaze, potboiler, s & m, USA, BREEDING BETTER DOGS,